The reality of trailer life is that you won't always have access to shore power. That means you'll either need a solar panel setup or a portable generator to keep your batteries charged. That's not all portable generators do though. They also allow you to run larger appliances, like your AC unit.
When you're camping in a travel trailer, whether it's a new travel trailer or a used camper, having a portable generator makes a big difference. That's because many travel trailers don't come with built-in generators, as you'll find on most Class A Diesel RVs.
Why Choose a Portable Inverter Generator?
An inverter generator provides electrical power you can use in your RV so you can utilize your RV air conditioner and other important features. You can buy non-inverter generators, but the power isn't the kind you want for RV appliances and household electronics. Make sure you're looking at an inverter generator and you'll be good.
What Size Portable Generator Do I Need?
Before purchasing your generator, you should think about the power output you'll need. If you get by without many electronics, you can probably buy a smaller portable generator. These are generally less expensive and have a lower power output.
If you have a somewhat high power demand, you'll need to get a generator that offers a moderate to high power output. These are usually larger in size and come with a higher price tag.
Your RV's power requirements will dictate the minimum size for your portable generator.
30-amp Recommendation: Minimum 3,500-watt generator
50-amp Recommendation: 6,000 to 8,000 for class A RVs with dual ACs; 10,000 to 12,500 for Class A RVs with three ACs
Unfortunately, there isn't a one-size-fits-all solution, so read more tips for choosing a portable generator to help determine the best sized generator for your needs.
Portable Generators for Travel Trailers
With all that in mind, here are five portable generators that would be great for travel trailer use:
1. Honda EU2200i Portable Inverter Generator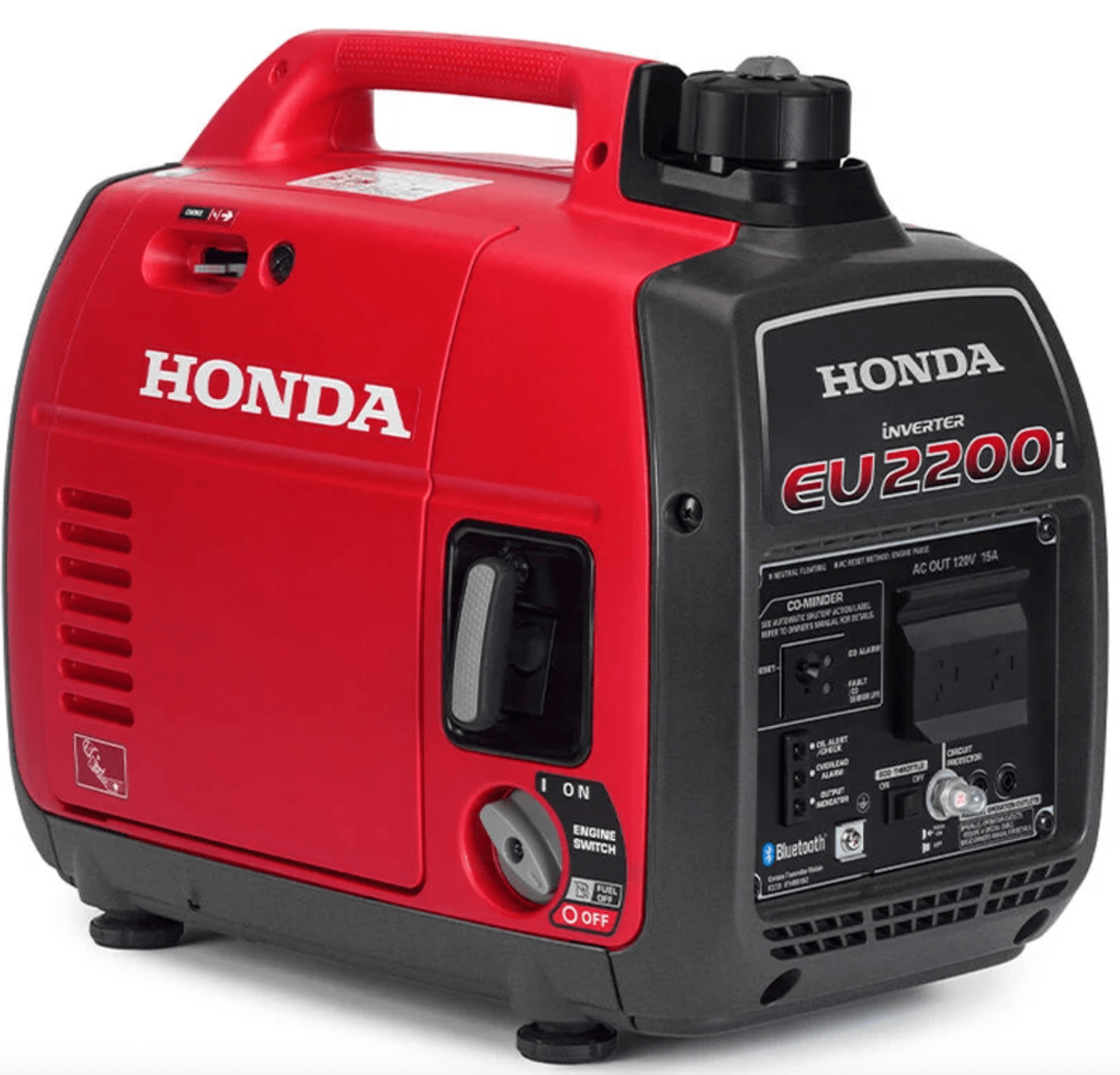 Generator Specs
Dimensions: 20.0″L x 11.4″W x 16.7″H
Honda makes some of the best portable generators out there. They're notoriously quiet, fuel-efficient, and produce high-quality power ideal for RVing and camping.
The Honda EU2200i Portable Generator offers a good amount of power for a reasonable price and operates at 48 to 57 decibels. It's also small enough to fit in many travel trailer storage areas or easily in the bed of a pickup or in the cargo area of an SUV.
It's equipped with Honda's patented CO-MINDER technology, which automatically shuts the generator down before carbon monoxide (CO) levels pose a threat. Plus, it's fuel-efficient and can run for up to 8.1 hours on a single tank of gas.
2. Champion 3500 Watt Dual Fuel Inverter Portable Generator
Generator Specs
Dimensions: 25.1″L x 17.3″W x 18.3″H
If you need a little more power, the Champion 3500 Watt Dual Fuel Inverter Portable Generator is another good option. The Champion name is well-known and respected, and this generator is still small enough to fit in many storage areas, the bed of a pickup, or the cargo area of an SUV.
The unit makes about as much noise as the Honda generator, operating at roughly 59 decibels from a distance of 23 feet. Because it's a dual-fuel design, it can operate on gasoline or propane right out of the box, although run time will vary based on your fuel choice.
Using gasoline, it runs for about 7.5 hours at a 25% load. On propane, it will run for about 14.5 hours at a 25% load. While it's approaching 1000 pounds, it's equipped with handy roller wheels that make maneuvering the generator into a specific position easy.
3. Cummins Onan P4500i Inverter Portable Generator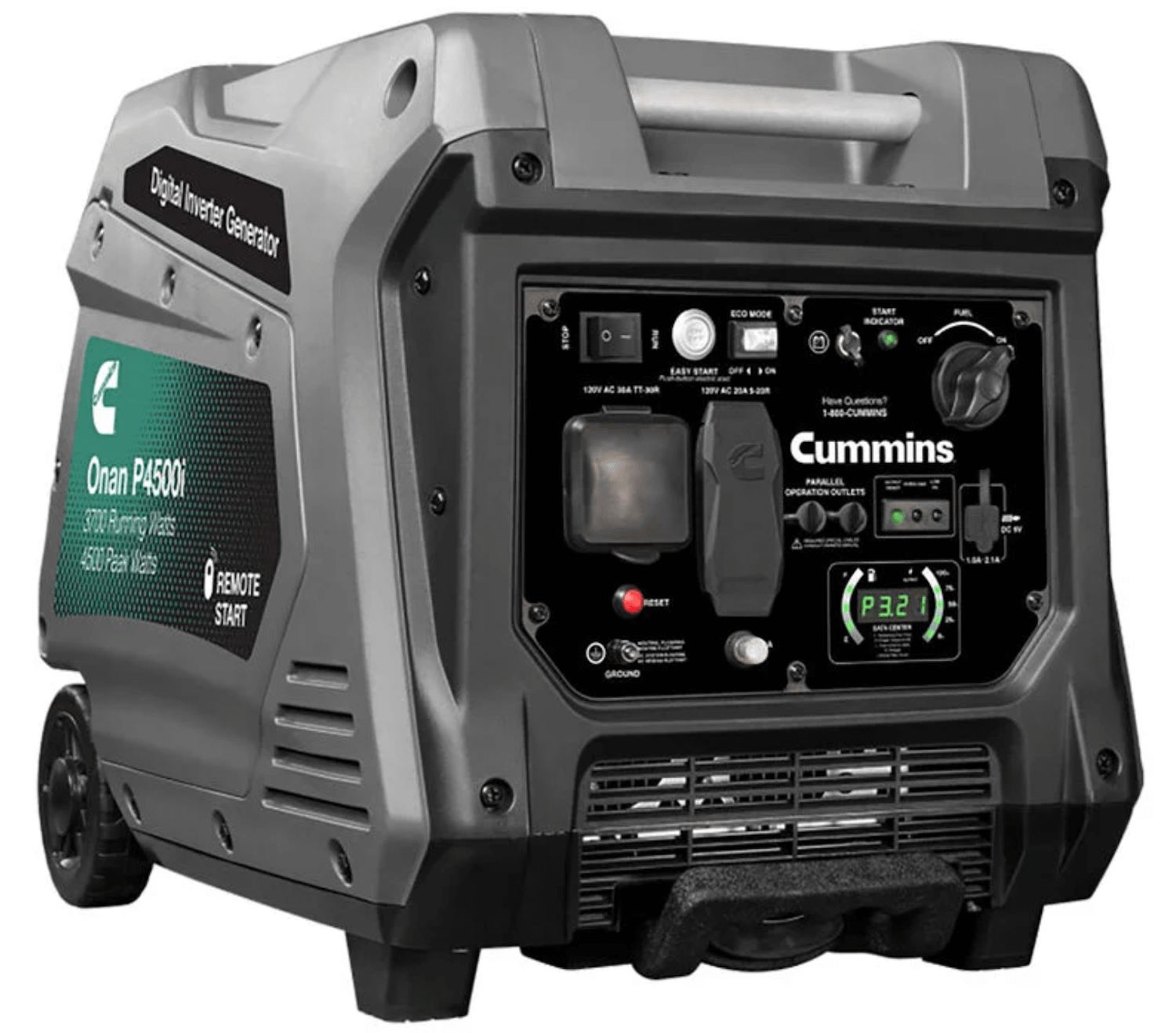 Generator Specs
Dimensions: 24.5″L x 18.25″W x 20.5″H
Cummins is another highly trusted brand in the world of RV generators. You'll find many of their models built into Class A motorhomes, but they make several excellent portable inverter generators as well.
The Onan P4500i portable generator is comparable to the Champion generator in size and weight while offering a bit more power for your RV appliances and electronics. With a 3.4-gallon fuel capacity, this efficient generator can run for up to 18 hours at a 25% load.
Its noise level is rated at 52 decibels and it comes with a remote-starting capability that allows you to fire it up from more than 100 yards away. If you're traveling to mountainous regions, keep in mind you'll need a separately-sold carburetor kit to operate this generator above 2,000 feet of elevation.
4. Champion 8500-Watt Dual Fuel Portable Generator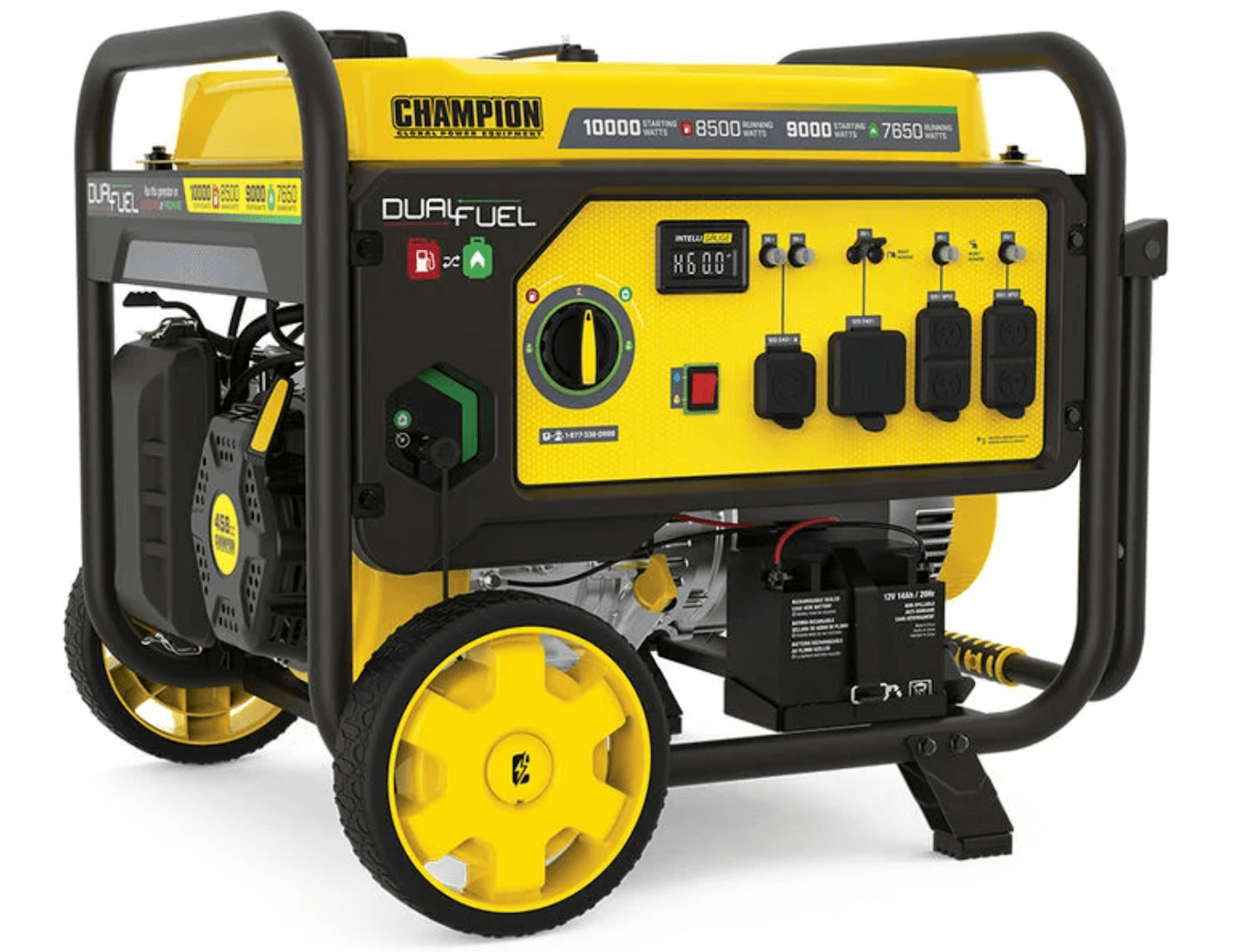 Generator Specs
Dimensions: 28.7″L x 28.5″W x 25.8″H
The Champion Power Equipment 8500-watt generator is the most powerful model on this list and runs on either gasoline or propane. It's also equipped with Cold Start Technology, which makes it an attractive option for full-time RVers that rely on their portable generator to get through the winter.
With a 7.7-gallon fuel tank, this generator runs up to 10 hours at a 50% load if using gasoline as your fuel source. If using propane, the run time is cut in half to five hours. Be mindful that using propane also lowers this generator's surge watts to 9,000 and running watts to 7,650.
That said, this portable generator is EPA certified, CARB compliant, and comes with its own wheel kit for easier transportation. Because it's on the heavier side, this is the kind of generator you might want to transport on a bumper-mounted cargo carrier rated for the generator's weight.
5. Cummins Onan P2500i Inverter Portable Generator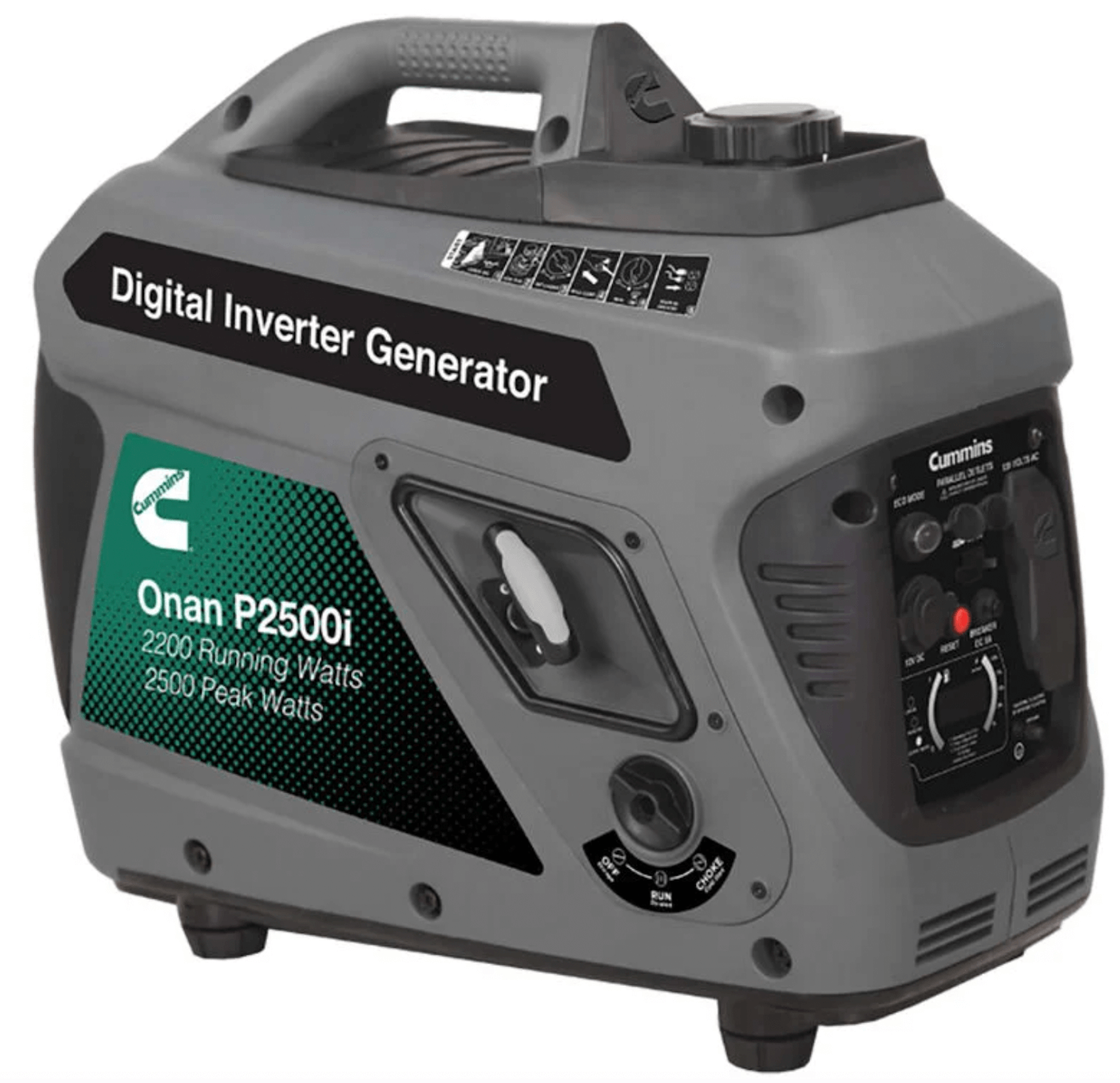 Generator Specs
Dimensions: 19.75″L x 10.5″W x 18.25″H
If you want to keep your generator compact, the Onan 2500i inverter generator is a great model to compare with the Honda EU2200i. They are similar in size and weight, but this generator offers slightly higher surge and running wattage ratings.
It's also capable of being wired in parallel with a second P2500i generator if you need double the power while maintaining the portability of two smaller generators. It's double-insulated to run at a rating of 52 decibels and provides 10 hours of running time at 25% load on its one-gallon fuel tank.
Ideally suited for charging smaller electronics, it also features a small rubber mat for placing items while charging. In terms of ports, you'll have one 20-amp AC outlet, one 12-volt DC outlet, and two five-volt USB ports to choose from.
If you plan on RVing in a used motorhome where you won't have shore power, make sure you have a way to keep your travel trailer's batteries charged. A small generator, like one of the ones shown above, is perfect for your camping needs.
Shop Camping World's complete selection of portable generators.
How to Operate a Portable Generator Safely
Once you select a powerful generator for your travel trailer, you'll need to learn how to hook up and use your generator safely. Here are a few more resources you'll need to get started:
How to Operate a Portable Generator
Portable Generator Safety Tips
The right portable generator will make you more self-sufficient on your next RV road trip. You won't have to rely on external power sources and you'll be able to boondock for extended periods without draining your RV battery.