Planning a trip to Australia and New Zealand? Look no further! This comprehensive travel guide will take you on an unforgettable journey through these two captivating destinations. Discover the unique features, attractions, and cultural aspects of Australia and New Zealand, and get ready to immerse yourself in the adventure of a lifetime.
1. Explore the Wonders of Australia
1.1 The Great Barrier Reef: Dive into an Underwater Paradise
Australia is renowned for its stunning natural wonders, and none are more iconic than the Great Barrier Reef. Stretching over 2,300 kilometers along the Queensland coast, this UNESCO World Heritage site is a paradise for divers and snorkelers. Immerse yourself in the vibrant underwater world, filled with colorful coral reefs, tropical fish, and even the chance to spot majestic sea turtles and dolphins.
1.2 Sydney Opera House: Marvel at Architectural Brilliance
No visit to Australia is complete without a stop in Sydney to admire the architectural masterpiece that is the Sydney Opera House. Set against the backdrop of the sparkling Sydney Harbour, this iconic landmark is a true testament to human creativity. Take a guided tour to learn about its fascinating history or catch a live performance to experience the magic within its walls.
1.3 Uluru-Kata Tjuta National Park: Witness the Red Heart of Australia

Deep in the heart of the Australian Outback lies Uluru-Kata Tjuta National Park, home to the awe-inspiring monolith known as Uluru (formerly Ayers Rock). This sacred site holds great cultural significance for the indigenous Anangu people and is a must-visit destination for its natural beauty and spiritual energy. Witness the breathtaking sunrise or sunset over Uluru and take a guided tour to learn about its rich cultural heritage.
2. Discover the Beauty of New Zealand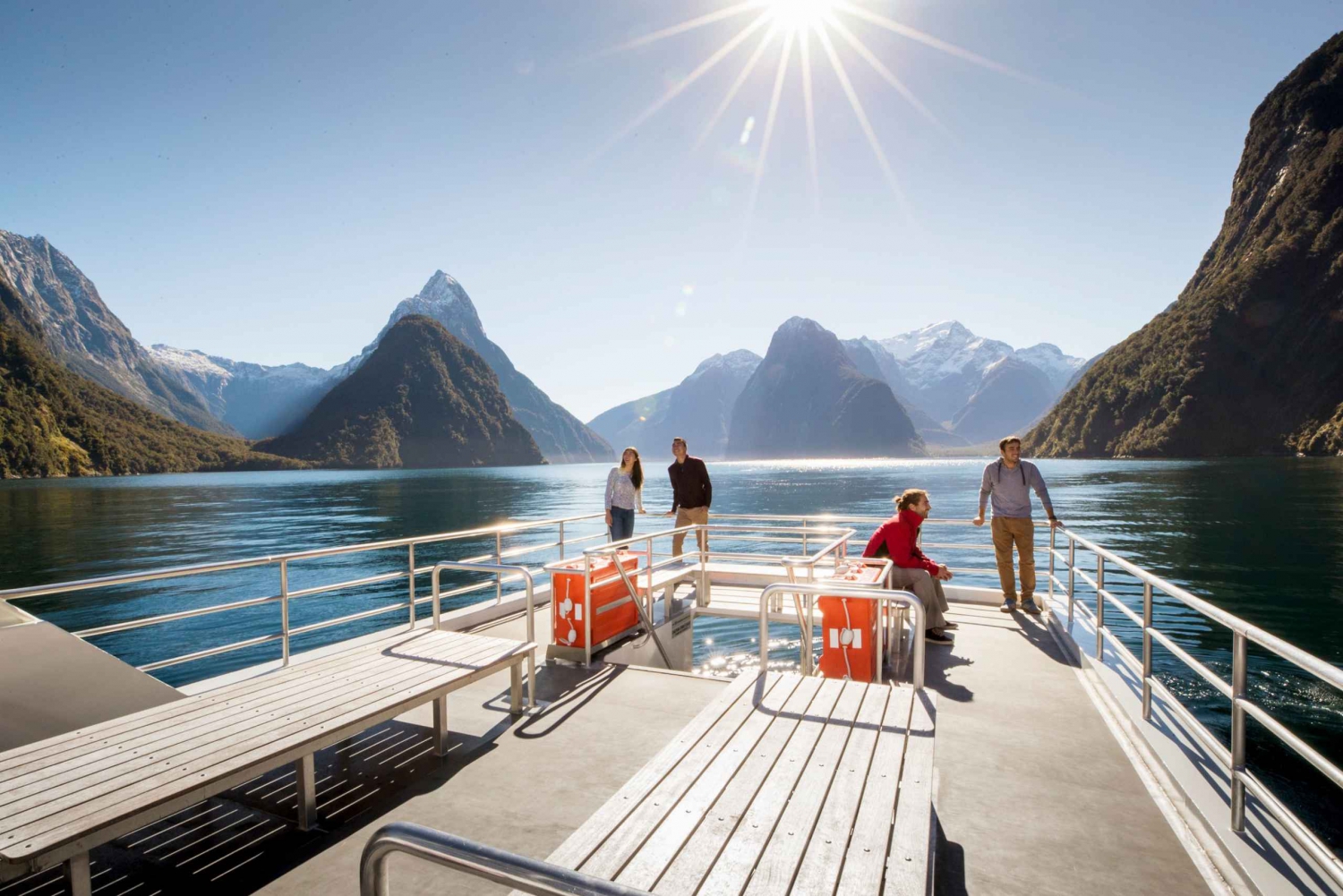 2.1 Milford Sound: Sail through Nature's Masterpiece
New Zealand, also known as the Land of the Long White Cloud, is famous for its stunning landscapes, and Milford Sound is a prime example. Located in Fiordland National Park, this breathtaking fjord offers dramatic views of towering cliffs, cascading waterfalls, and abundant wildlife. Hop on a scenic cruise to fully appreciate the beauty of this natural wonder and keep an eye out for seals, dolphins, and penguins.
2.2 Queenstown: Embrace Adventure in the Adventure Capital
For adrenaline junkies, Queenstown is the ultimate playground. Nestled amidst majestic mountains and crystal-clear lakes, this adventure capital offers a wide range of heart-pumping activities. From bungee jumping and skydiving to jet boating and heli-skiing, there's no shortage of thrills here. After an action-packed day, relax and indulge in the vibrant dining and nightlife scene that Queenstown has to offer.
2.3 Rotorua: Immerse Yourself in Maori Culture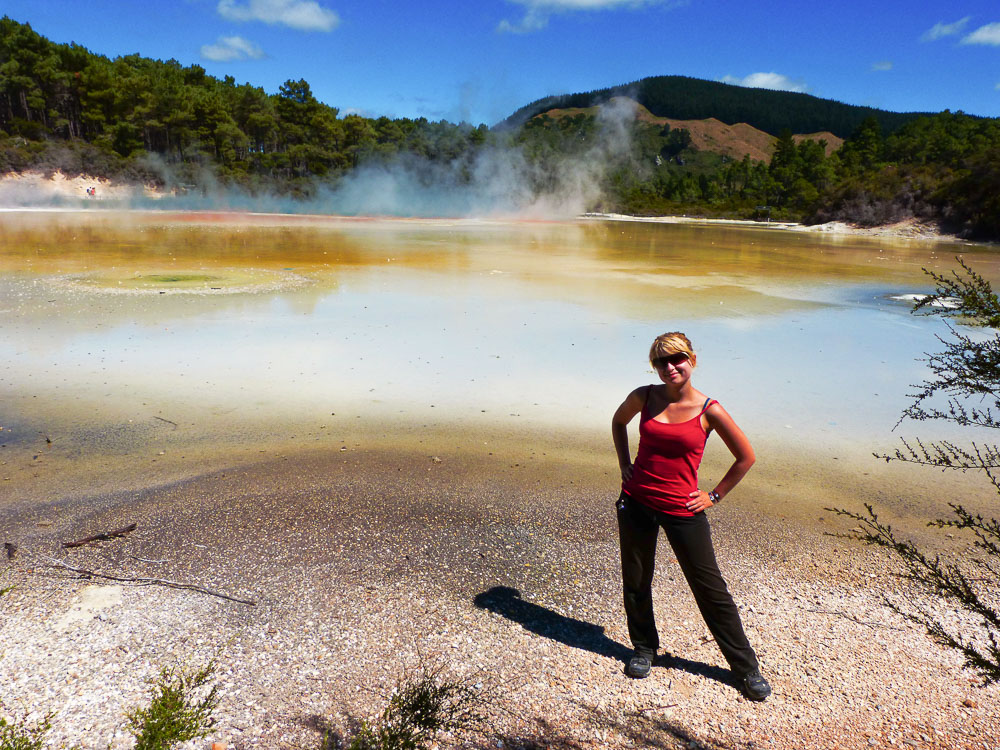 Experience the rich Maori culture in Rotorua, a city known for its geothermal wonders and traditional Maori villages. Witness the bubbling mud pools, steaming geysers, and colorful hot springs that make this region truly unique. Immerse yourself in Maori traditions by attending a cultural performance or partaking in a traditional hangi feast, where food is cooked in an earth oven. Don't forget to visit the fascinating Te Puia, home to the famous Pohutu Geyser.
3. Indulge in Local Cuisine
3.1 Australian Delights: Vegemite and Meat Pies
A trip to Australia wouldn't be complete without trying two iconic dishes: Vegemite and meat pies. Vegemite, a dark brown spread made from yeast extract, is a beloved Australian staple. Spread it thinly on toast for a true Aussie experience. As for meat pies, they are a delicious savory treat filled with minced meat and gravy, perfect for a quick bite on the go.
3.2 Kiwi Classics: Pavlova and Hangi
In New Zealand, indulge in two Kiwi classics: pavlova and hangi. Pavlova is a light and fluffy meringue dessert topped with fresh fruits and whipped cream. It's the perfect sweet treat to satisfy your cravings. Hangi, on the other hand, is a traditional Maori method of cooking food in an earth oven. Try a hangi feast to taste tender meat, vegetables, and stuffing, all infused with smoky flavors.
4. Best Times to Visit
4.1 Australia: Enjoy the Sunshine Down Under
Australia's vast size means that the best time to visit varies depending on the region. Generally, the months of December to February offer warm temperatures and long sunny days, making it ideal for beach lovers. However, if you plan to explore the northern regions, such as the Great Barrier Reef, aim for the cooler months of April to September to avoid the tropical wet season.
4.2 New Zealand: Experience Four Seasons in One Day
New Zealand's temperate climate means that you can experience four seasons in one day. The summer months of December to February are perfect for outdoor activities, while the winter months of June to August offer opportunities for skiing and snowboarding in the Southern Alps. Spring (September to November) and autumn (March to May) bring mild temperatures and stunning foliage, making them great times for scenic drives and hiking.
5. Getting Around and Visa Requirements
5.1 Australia: Exploring the Land Down Under
Getting around Australia is made easy by its well-developed transportation network. Domestic flights connect major cities, while trains and buses provide convenient options for traveling within regions. Renting a car is also a popular choice, especially for exploring remote areas. As for visa requirements, most travelers will need to obtain an Electronic Travel Authority (ETA) or Visitor Visa before entering Australia. Check the official Australian government website for the latest information.
5.2 New Zealand: Roaming the Land of the Long White Cloud
In New Zealand, traveling between cities is easy thanks to a well-connected domestic flight network. Buses and trains are also available for exploring both the North and South Islands. To enter New Zealand, most visitors will need to obtain an Electronic Travel Authority (ETA) or a Visitor Visa. It's important to check the official New Zealand immigration website for the most up-to-date visa requirements.
Conclusion
As you can see, Australia and New Zealand offer an abundance of natural wonders, cultural experiences, and culinary delights. Whether you're diving in the Great Barrier Reef, sailing through Milford Sound, or indulging in Vegemite and pavlova, these two countries have something for everyone. Remember to plan your visit according to the best times to explore each region, and make sure to check the visa requirements before you go. For more travel tips and inspiration, visit trvlldrs.com, your trusted source of travel information.
Frequently Asked Questions (FAQ)
1. Do I need a visa to visit Australia and New Zealand?
Yes, most visitors will need to obtain a visa before entering both Australia and New Zealand. Check the official government websites for the latest visa requirements.
2. What are some must-try dishes in Australia?
Don't miss out on trying Vegemite and meat pies in Australia. They are iconic dishes that locals love.
3. When is the best time to visit the Great Barrier Reef?
The best time to visit the Great Barrier Reef is during the cooler months of April to September to avoid the tropical wet season.
4. Can I drive in New Zealand with my foreign driver's license?
If you hold a valid driver's license in English, you can drive in New Zealand for up to 12 months. Otherwise, you may need to obtain an International Driving Permit.
5. What are some popular adventure activities in Queenstown?
Queenstown is known as the adventure capital, offering activities such as bungee jumping, skydiving, jet boating, and heli-skiing.