At Intentional Travelers, we believe travel can be transformational. That's why we want to help you travel confidently, safely, and responsibly. With ever-changing Hawaii travel restrictions and concerns surrounding COVID-19, our goal is to help you make informed decisions about where, when, and how to travel in this new world of ours.
This post about Hawaii travel in 2023 is periodically updated with official Hawaii travel restrictions, requirements and guidance.
At the end of the post, we share on-the-ground perspectives from local residents and travelers to Hawaii so you can get a sense of what it's really like.
Hawaii is close to our hearts, as Jedd grew up there and many of our family live on the islands. We have visited Hawaii multiple times since the pandemic, once it was deemed safe.
Last update: September 1, 2023. Originally published: May 2020.
Disclosure: This post contains some affiliate links. If you make a purchase through one of our links, we may receive a small commission, at no additional cost to you.
* Get our free Post-Pandemic Travel Checklist *
Is Hawaii open for travel? Can I travel to Hawaii right now?
Travelers to Hawaii can enter without restrictions. A pre-travel test or proof of vaccination are no longer required for domestic travel to Hawaii.
There are no restrictions for inter-island Hawaii travel.
In accordance with U.S. international arrival rules, travelers arriving from foreign countries no longer need a negative pre-travel test, regardless of vaccination status, as of June 2022.
Foreign visitors (non-US citizens) arriving by air internationally no longer need to show proof of full vaccination as of May 2023.
As of late August 2023, the weekly average of COVID-19 patients being admitted to Hawaii hospitals is at its highest to date this year. While hospitals still have capacity, health officials are asking the public to continue wearing masks in Hawaii.
Maui Wildfire Update
In August 2023, Maui suffered a deadly fire that wiped out the town of Lahaina and prompted evacuation of tourists.
Lahaina remains off while recovery operations are still underway. Visitors are asked to avoid West Maui (Nāpili, Kāʻanapali, and Kapalua), though the rest of Maui is open and welcoming tourists now.
Check Maui road closure announcements here
Chair of the House Committee on Tourism said: "I know that it is a very difficult path that we are trying to navigate in bringing the tourists back to Maui to be at once respectful of this incredible grief, while also understanding that we cannot afford to add an economic disaster on top of the humanitarian one."
Kahului Airport on Maui has continued allowing commercial flights, and nonessential travel to the rest of Maui is being welcomed as of late August. Most airlines do have flexible cancelation policies for Maui flights right now.
See the official Hawaii Tourism Authority alert here
Getting answers about hotel or other trip changes could take some time, as disruptions to cell service and power outages have affected most Maui establishments. Please be patient with West Maui tourism businesses about future travel plans.
Hawaii requirements to enter indoor businesses
You might be wondering: Do I need a health pass, vaccine certificate, or Covid test to enter restaurants, attractions, and other businesses in Hawaii?
Proof of vaccination or negative Covid-19 test are no longer mandated anywhere in Hawaii. Some individual businesses may still set their own requirements for entry.
What are the quarantine rules in Hawaii?
Individuals who test positive for Covid are asked to isolate for at least 5 days and at least 24 hours after any fever has resolved.
If traveling with others, companions are also asked to quarantine for 5 days. After quarantine, masks should be worn for 5 more days.
Individuals exposed to COVID (anyone who has spent more than 15 minutes within six feet of someone who is COVID positive) have been asked to do the following: – People fully vaccinated or boosted do not need to quarantine unless they have symptoms. – If unvaccinated or the second dose was more than six months ago, you are asked to self-quarantine, wear a mask around others in the house, and monitor your symptoms for 5 days.
Previously, a strict quarantine was required for any traveler to Hawaii who did not provide a negative test or proof of full vaccination prior to their flight. The quarantine started at 14 days, then was reduced to a 5 day quarantine.
Hawaii is no longer enforcing quarantine for travel since the entry requirements have been lifted.
Can I travel to Hawaii in September or October 2023? Can I travel to Hawaii this Fall?
Travel to Hawaii in September is open. Read on for details and check back for updates.
What is it like to fly to Hawaii right now? HNL Honolulu International Airport? It is no longer necessary for travelers to Hawaii to complete the Safe Travels procedure before flying.
Hawaii airports are generally busy and crowds may be difficult to avoid.
Check with your airline about current mask requirements.
Do I have to quarantine when traveling to Hawaii? The Hawaii quarantine requirement for travelers ended March 2022. Those who contract Covid should self-isolate.
Does Hawaii require a negative Covid 19 test for travelers? Travelers no longer need a pre-travel test for Hawaii.
Does Hawaii check COVID-19 symptoms of incoming travelers? Hawaii may do passive temperature checks for incoming passengers at the airport.
Does Hawaii require a proof of Coronavirus vaccine for travelers? Proof of vaccination is no longer required for traveling to Hawaii, except for non-US citizens arriving from an international departure location.
Do I need to provide a negative Covid test if I have been vaccinated? There are no test requirements for travel to Hawaii.
Is a booster shot required for travel to Hawaii? At this time, booster shots are not required to visit Hawaii. There is currently no expiration period set for the validity of vaccinations in Hawaii.
When will I be able to visit Hawaii without getting a pre-travel test? As of March 2022, test and vaccination requirements have been lifted for domestic travel. Test requirements for international travel to Hawaii have been lifted as of June 2022.
What healthcare options are available to travelers in Hawaii who get the virus? Hawaii hospitals and clinics are fully operational, though hospitals have reached capacity where emergency staff were required during surges in cases.
For travel insurance that covers Covid, check out Nomad Insurance by Safety Wing >
What service businesses and restaurants are open in Hawaii? Businesses, retail, and attractions have reopened in Hawaii.
Restaurants, bars, gyms and social establishments no longer have mandated capacity limits. Hawaii does have staffing shortages so lines and longer waits may be experienced.
What gatherings are allowed in Hawaii? Maui, Big Island Hawaii, Oahu, and Kauai no longer have capacity limits or gathering limits.
Are face masks required in Hawaii? Hawaii's indoor mask mandate has ended as of March 2022. Mask requirements in Hawaii schools expired August 2022. Masks are highly recommended indoors in areas with a High risk level. Due to rising hospitalizations from Covid, health officials have asked the public to continue wearing masks to prevent spread beyond the islands' hospital capacity.
Are buses running in Hawaii? Hawaii public transportation is running on regular schedules.
What requirements are there for cruise ships in Hawaii? There are no special rules for cruise ship passengers arriving in Hawaii. According to the CDC, cruise ships may have their own COVID-19 requirements for testing, isolation, quarantine, mask wearing, and dining.
Do you need a passport to visit Hawaii? When flying from other U.S. States, travelers only need identification required for domestic travel. International travelers will need a passport to fly to the U.S., including Hawaii.
Will Hawaii impose new Covid restrictions? What's next is difficult to predict. Historically, Hawaii has been one of the most proactive and "strict" States when it comes to preventive Covid measures. If strains on Hawaii's health care system might become unsustainable, we may see renewed restrictions.
How has the Coronavirus impacted Hawaii?
Although Hawaii managed to keep their percentage of case numbers lower than most other States, resources and capacity are much more fragile on the islands.
Hawaii saw a rise in new coronavirus infections late in the summer 2020. Hawaii reopened carefully in 2021 with quarantine and testing protocols in place to reduce virus transmission from travel. In summer 2021, tourism numbers returned to normal levels, despite few international visitors.
Oahu's reopening strategy in 2021 was originally intended to ease restrictions on Oahu once the vaccination rate reached a certain level. However, a significant surge in delta cases and hospitalizations in August and September 2021 prompted the Governor to temporarily discourage any non-essential travel.
The tiered reopening strategy was then replaced by the Safe Oahu Response Plan, which included proof of vaccination or testing to enter restaurants and businesses.
The emergency proclamation in Hawaii ended March 6, 2022. Hawaii was the last U.S. State to end their indoor mask mandate on March 26, 2022.
More than 3/4 of Hawaii residents have been vaccinated.
Economically, one in three Hawaii workers has been unemployed. Tourism, a major industry in Hawaii, has obviously taken a hit. The economic implications may be significant, yet health and safety remain top priorities.
For the current situation in Hawaii, including: total COVID-19 positive cases; total cases in Honolulu, Maui, Kauai, and Hawaii counties; and COVID-19 testing in Hawaii, please see the Hawaii Department of Health site.
What do Hawaii locals and recent travelers say about visiting Hawaii now?
What is it like to visit Hawaii right now? It's our goal to provide regular updates here from real people on the ground, to help potential visitors know what to expect. The following are subjective opinions only. Official travel guidance can be found above.
According to a survey in June 2020, a majority of Hawaii residents support Coronavirus restrictions and are willing to repeat stricter lock down measures.
September 2023 – Intentional Travelers: "Like everywhere in the world, the concern about COVID in Hawaii depends on who you speak with. Some of our Hawaii family members have expressed concern about rising cases and they wear masks in public areas or large family gatherings. Other family members are not concerned at all.
In most public areas like the airport, stores, shopping malls, etc. the majority of people are not wearing masks. Though everywhere you go, you do see at least a couple of people wearing them. On the airplane flying to Honolulu, of the 170+ passengers, maybe 10 or so were wearing masks.
The local news reports on rising cases, concerns etc. One recent article cited concerns that the tragic disaster in Maui will cause an uptick in cases."
April 2023 – Intentional Travelers: "The airport is crowded and tourist activities are back in full swing. Most of our family members in Hawaii are back to normal life, though still very wary of Covid because the health care system on the islands is fragile. Some locals still wear masks in crowds and indoors."
February 2023 – Melodie of TravelMustDos: "We flew to Hawaii and spent 6 nights on Oahu and 4 nights on Maui. Travel is back to usual with the exception that more people are wearing masks. Hawaii has a lot of visitors from Japan and it appeared many of them wore masks in public places. Masks were also encouraged at the Airport Lounges.
We did not run into any COVID related travel restrictions. We only observed that more people than in the past (pre pandemic) were wearing masks maybe 5-10%. Masks were not required on flights or in public areas. The only email I received regarding wearing masks was for the American Airlines Lounge at HNL. And masks were not required just suggested."
October 2022 – Karen from https://foreverkaren.com/, Canadian tourist: "I cruised from Vancouver, Canada, to the Hawaiian Islands, and stayed in Maui for 2 days and Oahu for 3 days. Tourism in Hawaii has returned to the times before the pandemic, although some tours still recommend social distancing and do thorough cleaning after each tour.
Most excursions are operating as before and tour operators said they were very busy. A few restaurant staff wore masks, although it was not required. Restaurants were busy in both Oahu and Maui, and we often had to wait 30 mins for a table. Some attractions have gone to online bookings online and contactless payments at the venue."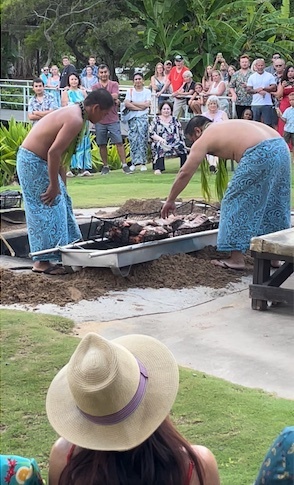 September 14, 2022 – Mirna of AspiringCreativeSoul: "My husband and I visited Kauai for 6 days in September 2022. All activities were accessible. We did not encounter closures of any kind. Masks were optional everywhere we went, except in a small bus we took to tour a Hawaiian Botanical Garden.
We encountered no crowds any where we went, except for the ticketed events that cater to large groups. We had no concerns about being able to access medical services. Food prices were higher than normal, but we did not encounter food shortages."
June 2022 – Sophie from We Dream of Travel: "We recently visited Maui and later the Big Island. Traveling to Hawaii is simple in terms of covid at this point. However, the islands have seen a large increase in tourism recently, particularly as domestic travelers are opting to travel to Hawaii rather than international travel. On top of this, there are ongoing issues with staff and supply shortages. Due to this, accommodation is limited, tours and restaurants are often fully booked, and prices have sky rocketed. While it is absolutely worth visiting Hawaii, some advanced planning is required to ensure you have a great vacation."
April 10, 2022 – Steven, visitor: "Honolulu very much feels like COVID is winding down. Most people are unmasked and places are busy again, but some businesses still have shortened hours in place."
January 4, 2022 – Michelle, Intentional Travelers: "We flew to HNL on Alaska Airlines, following the same Safe Travels protocols in our previous updates. We noticed a huge line for the free Covid testing outside of the airport arrivals area. The waits for free walk-up or drive-thru testing are reportedly several hours long. At our favorite coffeeshop with outdoor seating and when picking up to go orders, we were not asked for proof of vaccine or test. We did need to show vaccination cards for a private party at a restaurant. People are wearing masks indoors and many keep masks on outside as well. Our local family are still watching the case numbers carefully with concerns that the healthcare system could be overwhelmed again."
September 5, 2021 – Jedd, Intentional Travelers: "I returned to Honolulu, Oahu a third time this year to help with more family needs. The flight from Portland to HNL was not very full but the return flight was packed with lots of families. The airport was a little less busy than it has been earlier in the summer but lines were still long. Most locals continue to wear masks indoors and outdoors. My Hawaii family members are very concerned about case rates and risks involved with sending kids back to school. There were rumors about a lock down due spiking hospitalizations, but in reality it sounds like a new vaccination requirement for restaurants and venues on Oahu is what's actually going to happen."
August 15, 2021 – E.M., Visitor: "I came to Hawaii (Oahu and the Big Island) for 6 weeks to house sit and to visit a friend, respectively. Technically travelers are allowed right now, however in talking with some locals, they are concerned about the volume of travelers and ability for Hawaii's resources to be able to handle it. The concern is both for resources here and also for flight capacity to get off the islands if the current state of 'openness' changes. My visit to my friend's house was canceled for this reason. The beaches are still open and I have enjoyed beautiful swims and sunrises. I've also loved hiking in the mountains. I have found that masks are mandatory inside everywhere and have seen many people wearing them outside as well. Restaurants have been asking for people to fill out forms for contact tracing. I have heard from locals that hospitals are filling up, but I have no direct anecdotal experience about hospitals, medical centers, or testing here on the islands. Local attractions, shops, and restaurants seem to be open and just requiring masks, social spacing, and contact tracing."
August 1, 2021 – Permanent Resident, Honolulu: "Our COVID positive numbers in the last 3 days have cumulatively gone past 1,300! I am doing a double masking again in more public areas and have noticed that some of the clerks have even chosen to wear shields on top of their masks. I'm needing to prepare for a potential lockdown, we'll know in a few days. This delta variant needs to be taken seriously. My poor niece begins school here next week with a double mask."
July 11, 2021 – Jedd, Intentional Travelers: "I returned to Oahu to help out with some family matters. I had no problem entering my vaccine information and uploading a picture of the card (from Kaiser Permanente) to the Hawaii Safe Travels account, just like we did with our pre-travel test on our previous trip. Departing PDX was busy and not everyone wore their masks at the ticket counter despite it being a federal requirement at airports. The flight to Honolulu on Alaska was uneventful. Tourism in Hawaii is as busy as ever. I saw the line outside the car rental place at the airport wrapped around the building – apparently there is a shortage of cars and really high demand so rental car prices have skyrocketed. Masks are still required indoors (due to State rules). In tourist areas outdoors not a lot of people are wearing masks. However, I walked to downtown the other day and lots of folks were wearing masks outdoors there. It's a contrast between locals and tourists.Also, droughts and brush fires are happening on Oahu, Maui, and the Big Island."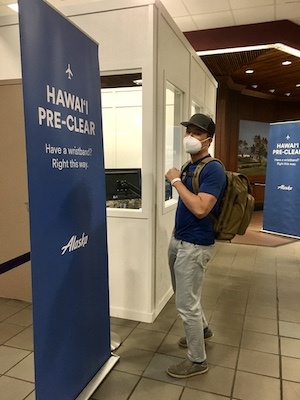 May 25, 2021 – Michelle, Intentional Travelers, Visitor: "We flew from Portland to Honolulu via Alaska Airlines. Their pre-clearance program required a few extra steps submitting our test online and providing a QR code to be scanned at the gate. But this made it super easy arriving at HNL airport. We just had to show our pre-clearance wrist bands and we were free to go-no long lines! You could walk past the temperature screening and not even notice.Locals are good about wearing masks in public and some are still quite wary about tourists because of how they've ignored Covid regulations, putting the community at risk. The rules just changed that masks are no longer required outdoors, school is back in person, and sports are restarting outdoors."
April 2021 – Aunty, Recent Visitor: "[When arriving on Hawaiian Airlines,] print 2 copies of the pages with all uploads (QR code, Test result, photo upload). They say that smartphone copies are acceptable, but it was easier for us to show our printed copy. I say print 2 copies, one for yourself and another as a backup in suitcase or with companion.Once you depart that plane in HNL you are instructed to follow the maze which leads you to the checkpoint. This line is as long as the amount of people on your plane. For us we had over 200 people. It took about 45 minutes for us to get to our processor. He took 3 minutes with his scanner, checked our ID's, and passed us.Then we were in for another surprise ..that there is no wiki wiki bus service to take us to baggage claim. So we had to walk another mile and a half to baggage claim which happened to be the very end of Hawaiian baggage claim terminal. So my last tip is to wear comfortable walking shoes & have water."
March 2021 – Permanent Resident, Honolulu: "The numbers of visitors to the islands keep growing by the 20,000s+ daily. It's disappointing to see the pictures of people on Waikiki Beach, in restaurants and in bars; so unfair of how our medical system may be affected again."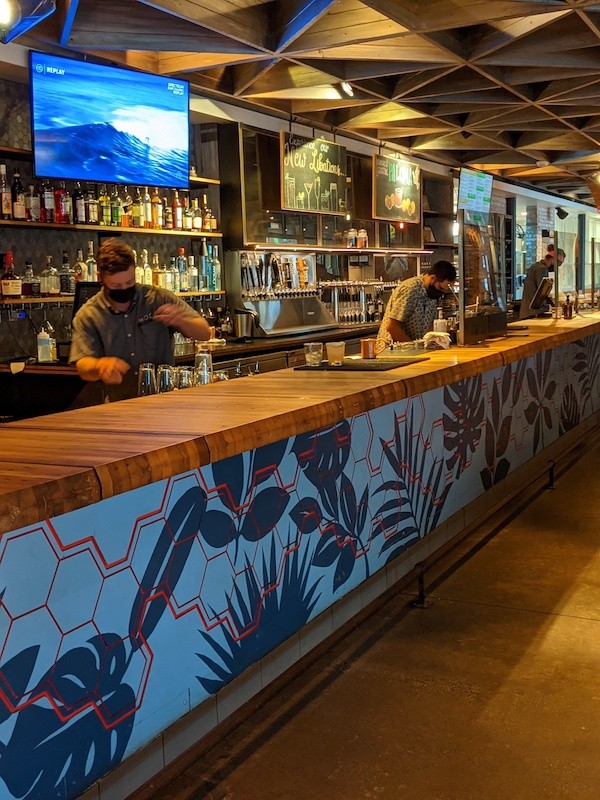 March 2021 – Jenn at Cocktails Away, Visitor: "I flew to Honolulu, Hawaii to work remotely for 10 days in March 2021. Locals are welcoming travelers but prefer that they be respectful of the COVID-19 restrictions that are in place to protect everyone. It's definitely less crowded than normal but there are still a good number of people visiting the area. Even with strict testing and quarantine protocols (if you weren't tested) in place, masks are worn at all times in public by most. Contact tracing is in effect as well. Businesses are still operating under limited capacity and hours, so as tourism rates increase, delays and availability may be impacted. Most businesses that were able to withstand the impact of the pandemic are starting to open. Hotels are hosting testing sites and you pass by them as you walk through the city. Vaccinations are still being administered to those 70+ so the rollout for that has been slower than in some states."
February 2021 – I'm Jess Traveling, Maui resident: "Visitors are welcomed to Hawaii if everyone complies with the mask wearing rules, not gathering in large groups and stays social distanced. Businesses and residents have taken everything seriously since the beginning of the pandemic. Booking ahead for all excursions, dinner reservations and activities is highly encouraged since space is more limited. All travel restrictions are being followed by locals and visitors alike. Maui only has one hospital but since you must prove a negative test before getting on the plane, Maui has not had huge outbreaks. Most, if not all attractions and activities are opened but with limited hours and smaller capacities than before. Live music is also back in many restaurants which gives it all a sense of normalcy."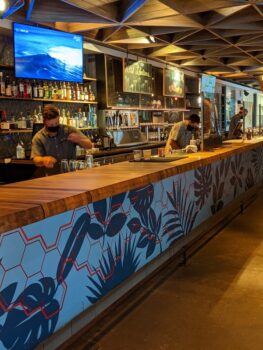 January 2021 – Noel at This Hawaii Life, Hawaii resident: "Yes visitors are welcome to Hawaii, providing that they do a pre-Covid test and on some islands, a secondary test each county provides. Masks and social distancing requirements are in effect so that is also an important note to visiting the islands. Most attractions are open for visitors to enjoy along with dining/shopping venues to visit."
December 2020 – Michelle J, Visitor to the Big Island: "The island of Hawaii has done a good job of managing the COVID-19 pandemic and they are cautious about making sure it stays that way and locals are kept safe and hospital resources are not overwhelmed."
Disclaimer: Please note, travel restrictions change frequently. Readers must take responsibility for verifying information through official sources like the State Department and CDC, in respect to their specific situations. No responsibility can be accepted by Intentional Travelers for action or inaction as a result of information provided through IntentionalTravelers.com. Any information provided here is issued as general information only.