At Intentional Travelers, we believe travel can be transformational. That's why we want to help you travel confidently, safely, and responsibly. With ever-changing travel restrictions and concerns surrounding COVID-19, our goal is to help you make informed decisions about where, when, and how to travel in this new world of ours.
Italy has a special place in our hearts, and we finally returned in Fall 2022. This post about Italy travel in 2023 is periodically updated with official Italy travel restrictions, requirements and guidance.
As restrictions vary based on the traveler's citizenship, we will focus primarily on rules affecting U.S. citizens.
At the end of the post, we share on-the-ground perspectives from local residents and travelers to Italy so you'll get a true sense of what to expect.
Last update: September 2023. Originally published: July 2020.
* Get our free Post-Pandemic Travel Checklist *
Can US citizens travel to Italy? Can I travel to Italy right now?
Italy is open to all travelers, including US citizens who are traveling for tourism.
As of June 2022, all travelers, including US citizens are no longer required to show a vaccination, recovery, or test certificate upon arrival to Italy. All travelers can enter Italy without quarantine.
Most Italy travel restrictions have been lifted as of May 1 for activities inside the country. See regional restrictions here and regional zone classifications here.
Starting in 2024, non-European visitors from over 60 visa-exempt countries, including the U.S., will be required to have a European Travel Information and Authorisation System (ETIAS) travel authorization to enter Italy and other European countries.
See details about ETIAS here
Quarantine rules in Italy: What happens if I get Covid?
Travelers are not required to quarantine upon arrival in Italy.
For those who test positive for Covid while in Italy, self-isolation for five days or until testing negative, followed by masking up to 10 days, was the latest requirement. More recently, locals report that quarantine is no longer being enforced.
Italy Green Pass Requirements to Enter Restaurants, Attractions and Large Events
You might be wondering: Do I need a vaccine certificate or Covid test to enter restaurants and attractions in Italy?
Italy's green pass (basic or super green pass) is no longer required to access restaurants, businesses, public transport, or participate in certain activities.
However, the Super Green Pass is still temporarily required for anyone age 12 and older to access hospitals or care homes.
Can Americans travel to Italy in September 2023? Can US citizens travel to Italy this Fall?
Travel to Italy in September is open. Read on for details and check back for updates.
What is it like to fly to Italy FCO or CIA Rome International Airport right now? In Rome, body temperature checks through thermo scanners may be taken at the entrance of the airports. The airports sanitize their spaces daily.
For travelers entering Italy from other countries, check with your airline about current mask requirements on board.
Do Americans have to quarantine when traveling to Italy? Quarantine is not required upon arrival.
See details above.
Does Italy check COVID-19 symptoms of incoming travelers? Body temperature may be scanned in the airports for inbound and outbound travelers.
Does Italy require a negative Covid 19 test for American travelers? A negative Covid test is no longer required to enter Italy.
Does Italy require a proof of Coronavirus vaccine for American travelers? Proof of Coronavirus vaccine is no longer required to enter Italy.
Do I still need to provide a negative Covid test or quarantine if I have been vaccinated? Neither proof of vaccination, negative test, nor quarantine are required to travel to Italy.
Is a booster shot required for travel to Italy? A booster shot is no longer required to enter Italy.
However, a booster shot is needed for the US vaccination card to be considered a valid Green Pass to enter healthcare settings while in Italy. See Green Pass Requirements above.
What Covid testing options are available for travelers in Italy? PCR and antigen tests are available for U.S. citizens and visitors in Italy. Antigen tests cost approximately 20-30 euros while PCR tests can cost around 70.
Individuals in Italy can get a Covid test from the following:
Government-approved testing labs
Testing facilities with English-speaking doctors in Italy
On-site testing facilities at international airports in Italy, such as Milan, Rome Fiumicino, Cagliari, Florence, Malpensa, Bari, Venice, Pisa, and others.
Private testing labs and pharmacies in Italy
What healthcare options are available to travelers in Italy who get the virus? Tourists and visitors may access Italian health care and emergency services by paying out of pocket or with privately purchased travelers' insurance. Tourists can also contact the Italian Covid hotline at 1500 (free toll number).
For travel insurance that covers Covid, check out Nomad Insurance by Safety Wing >
What service businesses and restaurants are open in Italy? Bars, restaurants and all other establishments are open. Both indoor and outdoor dining are allowed.
Are face masks required in Italy? As of October 2022, wearing of masks in Italy is no longer mandatory except in healthcare settings.
Are buses and trains running in Italy? Public transportation is available throughout Italy at normal capacity. Masks are no longer required on buses, trains, etc.
Will Italy impose new Covid restrictions? What's next is difficult to predict. Historically, most countries impose COVID-19 restrictions when strains on the health care system might become unsustainable.
How has the Coronavirus impacted Italy?
Italy was the first country in Europe affected by COVID-19 and was hit hard by the outbreak, requiring strict lock downs. Another large spike in cases occurred at the end of October 2020. A nationwide state of emergency continued through 2022.
Italy's economy, which includes a large tourism sector, has faced its deepest recession in history. More than 200,000 tourism-related jobs were discontinued in Italy by the end of 2021- accounting for a massive shortage of workers in the country.
In May 2021, Italy formally opened its borders to international travelers from select countries to revive tourism. In June, Italy eased its restrictions for international travelers, then tightened somewhat due to the Delta variant and Omicron variant.
Italy's state of emergency ended on March 31, 2022.
Italy obtains its vaccines via an EU procurement program. On December 27, 2020, Italy vaccinated the first residents against COVID-19. Currently, three quarters of Italians are fully vaccinated.
For the current situation in Italy, including: total COVID-19 positive cases; daily number of cases in Italy; and COVID-19 recovery rates in Italy, please see the statistics here.
What do Italian locals and recent travelers say about visiting Italy now?
What is it like to visit Italy right now? It's our goal to provide regular updates here from real people on the ground, to help potential visitors know what to expect.
The following are subjective opinions only. Official travel guidance can be found above.
September 2023 – Linda of insieme-piemonte.com, resident of Italy: "Italy has, especially in summer, many crowded places. However, beautiful Piedmont, in the northwest of the country, remains a hidden gem: cheap, hospitable and visited by Italians at most in high season.
At the moment, Covid is no longer an issue. There are no restrictions or protective measures. During the pandemic, however, very strict rules prevailed throughout the country, including house arrest for several weeks."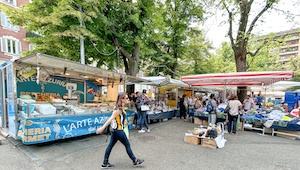 June 2023 – Natalie Deduck of Best of Turin, visitor: "My husband and I come to Turin to stay a month and later travel to other destinations in Italy.
The main tourist destinations such as Rome, Amalfi Coast, Florence, and Milan are receiving a tremendous influx of tourists this Spring and Summer. We are glad that we choose Turin for our longer stay. It is an incredible destination but not as famous as the other places, so here we can enjoy all the best of Italy without hassling with crowds.
Since I landed in Italy, I didn't see any advice or signals about Covid measures or how to behave in public spaces. No one wears masks, and businesses are open as usual, including bars, restaurants, clubs, museums, and open-air markets.
Everything is pretty much back to normal. My husband and I lived in Turin in 2019 and 2020 during the pandemic. We experienced Italy in its worst moment, and it's so good and heartwarming to see life back to what it was before the pandemic."
January 2023 – Zoe of Together In Switzerland, EU visitor: "For our visit to Como, Italy for 2023, the location was pretty busy and lively. All shops and restaurants are open and seemed like a good mix of locals and tourists.
It's not mandatory, but many do choose to wear a mask such as on the local bus or when in the main shopping area. There were absolutely no checks during our whole visit in Como, however you do see that local stores do still have a those plastic protection areas at the cashier tills and hand sanitizers is available at entrances. We personally didn't see many people using these and no minimum space was needed. The only crowded area we encountered was for a busy local restaurant that everyone wanted to eat at."
October 18 2022 -Michelle, Intentional Travelers: "Italy's tourism feels back in full force and daily life has resumed as normal. Some people wear masks in grocery stores, trains, or other public areas but not many. On the train back to Rome airport, we saw staff sanitizing handrails in all the train cars. Lines at FCO airport seemed typical, and we passed through check-in, security and customs relatively quickly (25 minutes) on a weekday morning. We didn't have to show any Covid documents, only passports."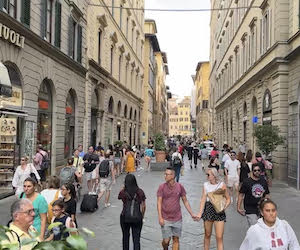 September 2022 – Michelle, Intentional Travelers: "We flew into Florence, Italy and took trains through Tuscany in September. To enter Italy, we only needed our passports. Air Dolomiti airlines required masks on the flight.
The Florence airport tram into town had signs that masks were required but maybe 50% of people were masked. Around Florence, it is as busy as ever and highly recommended to make reservations for big attractions in advance. Masks were still required on the regional trains in Italy, enforced by staff and audio announcements. Otherwise, tourism does seem back to normal."
June 3, 2022 – S.M, American digital nomad – "I flew today to Rome from Croatia. They didn't ask for anything covid related. No test or vax cards. But we had to wear N95 mask on the plane, that's it."
May 2022 – Lyndsay at thepurposelylost.com: "I've been living in Italy and exploring the country for six months now, and the past few days were the busiest I've seen the cities! As the weather gets warmer, we're expecting an uptick in tourism, which is definitely what I've encountered so far. Tourists are eager to experience la dolce vita again!
Although you don't need to wear a mask walking around outside, masks are still required on public transportation like busses, metros, and trains, and highly encouraged for all inside spaces like restaurants and shops. You'll even find a mix of people wearing masks at public outdoor events."
March 24, 2022 – Heather American/Italian dual citizen: "I flew into Rome and then proceeded to take several trains and a bus to get to a tiny village in Abruzzo where I will be living for the next five months. Masks are required inside all buildings, and most buildings have signs indicating you need to show a Super Green Pass for entrance. Trains and buses did check for my Super Green Pass and my CDC card showing my booster was accepted readily.
Italians are still taking things pretty serious, regarding masks, etc."
March 2, 2022 – Sarah Wilson of Life Part 2 and Beyond, British visitor: "I'm in Florence for 10 days learning Italian. I was surprised how many tourists were here over the weekend. Queues were long to many of the major sites. They do check your Green Pass every time you enter a tourist attraction, and restaurant. Some shops also insist on seeing your Green Pass but not all. Masks are being worn inside but not needed outdoors.
There are plenty of pharmacies, many offer COVID testing or the rapid antigen tests. All the pharmacists in a city like Florence speak great English. To reduce waiting in line, I recommend booking attraction tickets online in advance."
Candice of Mom in Italy, Permanent Resident: "It's a nice time to visit because you can visit places like the center of Florence and its museums without any crowds.
We've also been visiting smaller villages like Pienza, Montepulciano, and San Gimignano, but they're a little too empty. Almost all shops and restaurants are closed, due to the lack of local visitors. For anyone thinking of coming to Italy right now, I'd stick to the bigger cities, where you're guaranteed to find things open and still full of Italian 'vita.'
Throughout the entire pandemic, I've been impressed by the cooperation of Italians. People here wear masks when/where required and for the most part, respect the rules. Visitors need to follow the rules too – for example, if you don't have the Green Pass here, you can't sit down in an indoor restaurant. Owners don't distinguish between locals and tourists – everyone has to have their Green Pass scanned or checked.
It's easy to get tested in Italy – there are private clinics and you can also get tested in pharmacies. You can also get English translations easily. It's not a great time to come to Italy if you aren't vaccinated (or have proof of recovery from COVID within the last 6 months). Pretty much anything you'd want to do as a tourist right now requires the Green Pass.
We haven't found any long lines or crowds, although I expect there will be an influx of visitors in the spring because Italy's precautions help make it a less risky destination and people are ready to come back to Italia!"
January 2022 – Claudia of Strictly Rome, Italian resident: "All attractions and places of interest for tourists are currently open in Italy. Visits to restaurants typically start with the staff coming to the table to check your "green pass" (the Italian vaccination card). Much like locals, tourists are required to show proof of vaccination or of having recovered from Covid to access attractions, restaurants, hotels and transport – including trains and local / city buses. Everyone in Italy follows the rules, wearing masks wherever required and showing their vaccination card to access public places, restaurants, attractions, transportation and the like. Antigen tests are available at any pharmacy, best if upon booking and depending on the city and region in Italy there may be a line to get tested. Access to health care remains free for everyone on Italian territory, including visitors. You will be significantly better off making restaurant reservations as with Covid restrictions and social distancing availability for tables in popular tourist destinations may be limited."
December 2021 – Or of My Path in the World, Israeli traveler: "I flew to Turin for a one week leisure trip in December 2021. I felt very safe in Turin as everything was well organized and it seemed like the locals were determined to live "normally" again. Everyone follows the current restrictions, and some people even wear masks outdoors though it's not mandatory. You can't enter a museum or a restaurant without your Green Pass being scanned (unless you're sitting outside), and some attractions require a reservation in advance because you need to pick a specific timeslot for your visit. There are quite a few places for covid tests, and a PCR test for your flight back home will cost you about 70 Euros."
November 30, 2021 – Morgan Fielder, Crave the Planet, E.U. expat: "It's so great and easy to get reservations at awesome restaurants with fewer tourists. The airports in Italy have gotten more efficient and travel has been extremely easy since August if you are vaccinated and keeping your mask on appropriately. Yes, people follow the rules. Access is good to hospitals and if there's any hint of problems, then businesses and events have gone to only letting in vaccinated or recovered people. Contract tracing is done via app when you go inside a venue or restaurant."
September 20, 2021 – Sarah Wilson, British expat in Malta: "I was in northern Italy at the beginning of September for two weeks and now I'm in Sicily until the end of the month. The locals are very welcoming. It's been a tough time for many businesses in Italy, so they are very happy to receive tourists. I literally had Rome to myself, so if you enjoy travelling without the crowds, now is the time to visit. To enter any restaurant, museum or tourist site, you do have to show your vaccine certificate. Some places like the restaurants in Lake Como also asked for your name and phone number. Masks are worn on all public transport and indoors and majority comply. Sicily has recently turned yellow which means masks are supposed to be worn indoors and outdoors – very few wear them outdoors – it's too hot."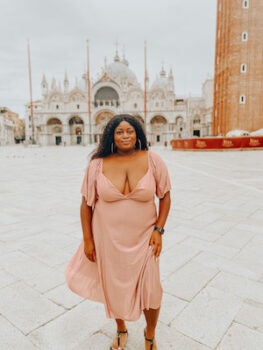 August 2021 – Abigail, American traveler: "I went to Italy for a weekend. I felt safe and all of the stores were open. There was a green pass that people used to dine indoors, however since I'm a US Citizen I did not have one. Instead I showed my vaccination card, and it was asked for at every establishment. They did not ask for the Covid pass for public transport for Venice or Milan during my stay. For sit down restaurants, they wouldn't let you in the door if you could not show vaccination. I did see a lot of seats for outdoor dining everywhere I went though."