Support TFG by using the links in our articles to shop. We receive a small commission (at no extra cost to you) so we can continue to create helpful free content. As an Amazon Associate, we earn from qualifying purchases made on Amazon in addition to other retailers featured on the blog. Thank you, we appreciate your support!
A great travel wallet is essential for storing and keeping your credit cards and money safe while you are sightseeing. Find the best travel wallet for you based on reader recommendations!
Travel wallets are a must-have to store your cash and credit cards when on vacation. You can use them to carry your passports and travel documents when going to or coming from your destination. Many offer RFID protection to keep your identity safe from criminals.
Travel Fashion Girl readers love their travel wallets for many reasons. They share what they like best about them, the advantages from using travel wallets, and what to look for when you shop for a new travel wallet.
We've rounded up their favorites to make it easy for you to decide which is the best travel wallet for you!
Best Travel Wallet Reviews from Readers
Zoppen Multi-purpose RFID Blocking Travel Passport Wallet
Readers' Favorite Travel Wallet: Zoppen Travel Wallet
Our readers' favorite wallet is this one from Zoppen. Not only is it extremely stylish, but it is also an amazing document organizer holder, too! Our readers love this wallet because of its awesome organizational features and its slim style.
One reader says, "I recently was given this as a gift and am using it as my daily wallet as well as to travel with. I like it a lot, and it fits really well into my different travel purses."
One reader says,"Even my husband has carried it for international travel when we haven't been together and didn't feel awkward carrying it." Sounds like the best men's travel wallet, too!
It is available in various colors from blue to green, and yellow to pink, so there is an style to suit everyone with this best wallet for international travel.
Kate Spade Newbury Lane Neda Leather Wallet
Best Brand Name Travel Wallet: Kate Spade Travel Wallet
Kate Spade is famous for making much-loved handbags and purses. This wallet has many slots for your cards and a full-length slip pocket on the back for you to store any travel documents.
It comes in many colors and makes the perfect accessory to your travel outfit. This option for a purse is pretty but practical!
One reader says, "I love my Kate Spade travel wallet. It has a handy pocket to separate out different things and multiple cash sections with enough room for my passport and boarding passes."
Michael Kors Jet Set Travel Trifold Wallet
Best Designer Travel Wallet: Michael Kors Travel Wallet
Check out this travel wallet designer option from Michael Kors. With a great brand name, this wallet is a classic tri-fold style with 17 credit card slots to store your cards. It has a multi-function slip pocket so that you can remain organized on the go.
One reader says, "I have this wallet from Michael Kors, and it looks great and holds all my stuff."
Another reader adds, "My Michael Kors wallet is fantastic for travel."
Yaluxe RFID Blocking Leather Wallet
Best Leather Travel Wallet: Yaluxe Compact Travel Wallet
This wallet from Yaluxe is smaller and more compact, perfect for traveling light. Our readers love this wallet because of its size and built-in RFID protection for the six card holders. Available in more than 10 colors, there is a wallet for everyone!
One female explorer says, "I carry one of these really small RFID blocking wallets from Yaluxe. I first used it on vacation, and now use it every day!"
EOTW Wristlet Waterproof Passport Travel Wallet
Best Waterproof Travel Wallet: EOTW Waterproof Passport Wallet
If you don't want to splash out large sums of money on a designer purse, then our readers' recommend this travel wallet for just $14.99. Best of all, it's waterproof!
One feature our readers particularly like about this wallet is the wristlet strap. One reader says, "I use this one as I can also use it as a wristlet if I need to. I like the little strap attached to it."
Another female explorer says, "I travel with this wallet as it has RFID material to protect my credit cards and passports. I also can put my phone in there, too, and it works great."
Big Skinny Executive Bi-Fold Slim Wallet
Best Slim Travel Wallet: Big Skinny Slim Wallet
The Big Skinny has plenty of space for 40 cards, your checkbook, cash, and it has two pockets that are handy for travel wallet document storage. The pockets are lined with a rubbery coating designed to stop your cards from sliding out and getting lost.
One reader says, "I always use Big Skinny wallets when I travel. They're flat, light, and machine washable."
Apadi RFID Blocking Travel Wallet
Best RFID Blocking Passport Wallet: Apadi Travel Wallet
Our readers are very excited about this stylish wallet from Apadi because it is an amazing travel wallet organizer. This travel wallet for documents is roomy enough to accommodate your passport, credit cards, and cash!
It has RFID blocking to protect against theft, and the design of the zip around case will ensure nothings falls out by accident. The wallet comes with a removable strap, so it can be transformed into from a wallet for sightseeing to a convenient clutch for evenings out.
One reader says, "I love this one! It fits in a backpack or tote nicely and holds your passport. It has lots of card slots and you can use it as a wristlet if needed."
Fossil RFID Zip Around Passport Holder
Best Passport Wallet Holder: Fossil Passport Case
This awesome purse is perfect to get you in the mood for your next vacation, with "Travel Vibes" embossed across the front. As an added bonus, you can keep your travel documents safe alongside your cash and cards with RFID protection in this best travel wallet passport holder.
One reader says, "I like this one from Fossil. I use it pretty much all the time because it fits into my cross body bag better than a full wallet."
Sakroots Artist Circle Cross-Body Phone Wallet
Best Travel Wallet Organizer: Sakroots Cross Body Wallet
If you are looking for a wallet that can also be converted into a cross body purse, then this one from Sakroots may be just what you are looking for. It is a larger size, so it's fantastic for carrying your cash and cards while also carrying your phone.
One reader says, "I can put all my cards, currency, passport, and phone in it. It has a wrist strap and a long strap to use as a cross body, so it can be used alone or inside another purse as a wallet. Love it!"
Choose this zippered passport wallet if you wish to pack extra light!
Best Wallets for Security
Instead of using a normal purse, some of our readers prefer to travel with an anti-theft product that they can keep hidden for the best travel wallet security.
Winks Travel RFID Blocking Travel Neck Wallet Passport Holder
Best Travel Neck Wallet: Winks Travel Neck Wallet
Several of our readers like to travel with a neck wallet as they feel safer. You can keep your neck wallet hidden under your clothes to keep your passport and cash safe from pickpockets.
This neck wallet from Winks Travel allows you to organize all your travel essentials with seven pockets for you to stash your valuables in.
One reader says, "When traveling, I use a neck wallet as I feel much safer than carrying my cards and money in a purse."
Compass Rose Bra Wallet
Best Hidden Travel Wallet: Compass Rose Bra Wallet
If a neck wallet is not to your taste, then an alternative is to travel with a bra stash. This Secret Bra Wallet with RFID protection is perfect for keeping your belongings safe from pickpockets while on vacation. Think of it as a hidden travel wallet.
Compass Rose is our brand! Learn more about it and how to wear it by reading this article! (Hint: There are several ways to use it to keep your cash and cards safely tucked away!)
One reader says, "I like to stick items into my bra stash, and if I don't wear it on my body, then I can just pin it inside whatever bag I'm carrying."
Best Alternatives to Travel Safe Wallets
If you don't want to travel with the added weight of a wallet, then maybe consider traveling with a cross body bag instead. Our readers like to use the pockets inside a travel wallet cross body purse for storing their cash and cards.
As one reader says, "I don't carry a wallet when I travel. I just tuck my cards into different pockets of my small cross-body bag."
Travelon Luggage Anti-Theft Cross-Body Bag
Travelon Anti-Theft Cross Body Bag
Our readers rave about their cross body bags from Travelon. The slim design is made from slash-proof fabric and has an adjustable, cut-proof shoulder strap.
Best of all, this travel wallet purse comes with RFID blocking card slots. So if you cannot find a wallet you like, you can just travel with your Travelon bag instead!
One reader says, when "I travel overseas, I don't carry as many items with me, so I do not need a wallet, so I utilize the card slots built into my Travelon cross body."
Best Travel Wallet Comparison Chart
Zoppen Multi-purpose Rfid BlockingTravel Passport Wallet
Are passport wallets a good idea?
Yes! Keeping your documents, cash, and cards safe when you travel is important. You will be in new places and perhaps more distracted than when you are at home.
A travel wallet or passport holder is a good idea to keep your documents safe, particularly on days when you are traveling — flying, taking a train, bus, or other public transportation.
When choosing your new wallet for your next vacation, one feature that all ours readers agree is essential is for it to have RFID blocking technology to protect your identity from electronic pickpockets and identity theft.
Whether you choose to use a travel wallet, remember to always split up your money and use an anti-theft product like a bra stash to hide the majority of your cash. Only carry the money you will need for that day in your wallet.
Don't carry your passport with you once you reach your destination. Keep your travel documents locked at your hotel or accommodation, and carry a copy with you.
What do you put in a travel wallet?
Use your travel wallet to store your money, credit cards, and travel documents. Several styles even provide you with the option of storing your passport or mobile phone, too.
When picking your new wallet, you might want to consider choosing one with more space and slots than your everyday purse. This is a fantastic way to keep all your belongings and travel documents organized.
To learn more about travel wallets and safety, check out these resources:
How to Use a Secret Bra Wallet
Watch: 10 Anti-Theft Travel Tips Video
Common Sense Safe Travel Tips
How Do You Keep Your Stuff Safe When Traveling Abroad
LIKED THIS POST? PIN THIS PIC TO SAVE IT!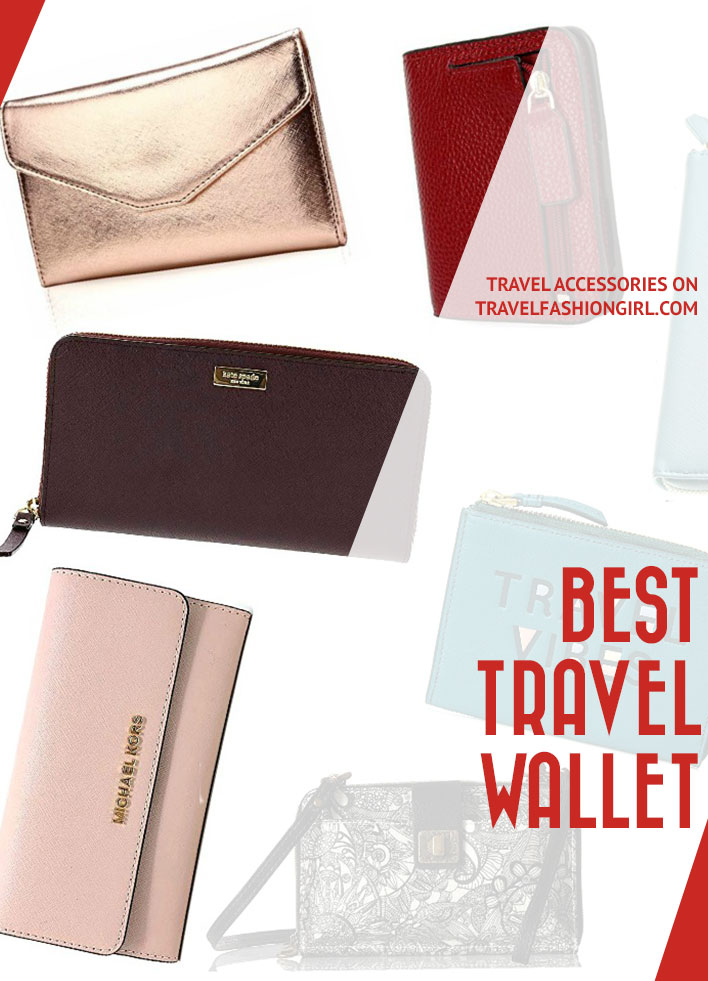 We hope you enjoyed this article about the best travel wallet. Please share it on Facebook, Twitter, and Pinterest! Thank you for reading!